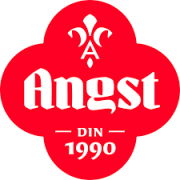 _________________________________
Location – Bucharest, Romania
Area – 60 sqm
Year of completion – in progress
Concept – A new concept for a premium butcher store
Style – Modern, with combined classical and industrial elements
Used materials – brick-like ceramic tiles, floor tiles that imitate wood, custom-made wallpaper, washable paint, wooden panel wall cladding. Custom-made MDF furniture with wood veneer. The decoration consists of classic mincing machines hung above the serving table, other decorative kitchen utensils, plants arranged in the upper niches of the furniture.
Chromatic range – grays from anthracite to light gray, natural wood shades.
_________________________________
Photos: CorpConstruct
_________________________________
Last year, the Angst Company decided to do a face-lift and changed its product design. The next step after this was rebranding. This year, it continues to promote itself through its new store concept as a niche for people who care about quality and the idea of premium products. Our role was to create an image for the store and integrate the new identity of the brand into it. That's why we've opted for customised items and paid attention to details, such as ceramic flooring that looks like marble or antique parquet, natural veneer plywood on the walls, decorative hanging lamps.
_________________________________
3D Concept Project