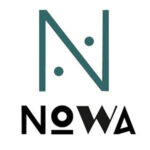 _________________________________
Location  – Nordului Street,  Bucharest
Area – 220 sqm
Year of completion – 2021
Concept – Urban Bistro
Style – Modern with industrial elements
Used Materials – Vinyl flooring, decorative profiles, washable, carpet, wallpaper
Furniture – Winroof, local production
Chromatic range – pastel colors with vibrant accents – blue, orange, lemon yellow
_________________________________
Photos: Alexandru Prodan
_________________________________
What would it be like to dine on the porch of an interbellic French house? Maybe anyone who visited Paris or the old areas of Bucharest, could not help but notice the old houses full of charm and architectural spectacle. Close your eyes and imagine the smell of lacquered oak flooring that creaks slightly, that you are surrounded by flowers and greenery with the smell of basil and anise, and the jasmine tea in the Rosenthal cup blends perfectly with a Sain Mercellin cheese baked with honey, truffles and bread snacks. Are you already in the story?
From here started the concept of the new NOWA fusion restaurant, the idea of ​​a perfect lunch in the park with your loved ones, where the carefully thought-out menu pampers you and tempts your senses. Whether you take the tea, drink a perfectly roasted coffee in the morning with a portion of Benedict eggs or make an event that will remain in your memory, the new location is the authentic expression of a top experience, which will surely make you become loyal customer.
The interior design style successfully combines the feeling of the veranda underlying the concept with the industrial look of the office building, the upholstered furniture with velvets and imported fabrics of the highest quality, the sofas in metal frames that have as subtle idea the canary in the cage, the lighting decorative with birds on the wire, all harmoniously designed to tell the same story. The restaurant has a generous terrace covered with a bioclimatic pergola, an extension of the interior that merges you with nature and it seems that you dine in the park opposite. For lovers of fine drinks and leaf cigarettes, there is an area dedicated exclusively to these activities, so any taste difficult to satisfy, will find the right environment at the Nowa restaurant.
_________________________________
Proiect concept 3D